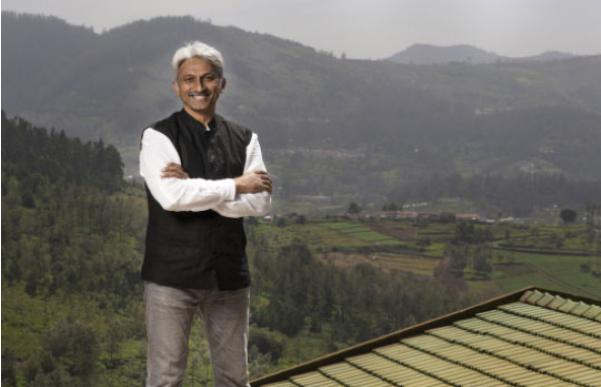 When Iqbal Mohamed realized that he wanted to take great pictures and photography was his calling in life, he also realized that there was no formal educational institution in India where he could go and learn. He had to go to Brooks Institute, California, the USA to pursue his dream. Being amongst the first few to go abroad to study photography Iqbal was also the first to come back from Brooks and become one of India's leading names in the professional photography sector. After about a decade of practice, while in Mumbai, Iqbal realized that not much had changed to make quality photography education available to the increasing numbers of aspirants.
With a desire to bridge this gap, in 2001, Iqbal Mohamed teamed up with his wife Anuradha and established Light & Life Academy. A first and to this date, the only one of its kind professional photography institute in the country, LLA is a blend of India and the West, where exclusive, international standard photography is delivered with a Gurukul like approach.
Replicating Classroom Learning on a Digital Platform
Light & Life Academy has come up with LLA Online, an online platform which was launched with its first course ­'Get Creative with Photography'. A 10-week long course, it covers every fundamental of photography. Designed on the concept of a structured learning program, LLA Online is a platform where each course is presented as a series of learning modules, delivered in a progressive order, ensuring that each module is understood thoroughly before moving on to the next.
"I believe that everyone who wants to take up photography should have a very comprehensive understanding of the fundamentals. Once the fundamentals are understood, you can really explore your creativity. With LLA Online, we have tried to take our learning from over 19 years of experience of teaching photography at Light & Life Academy, and replicate the methodology of teaching, as much as possible, and bring it online," speaks Iqbal Mohamed.
The courses offered by LLA Online have numerous unique features. It allows a comfortable time frame to make for meaningful learning; it is available in over nine Indian Languages as well as English; emphasis is laid on practical learning; the students are given proper feedback by an exclusive team of alumni, who are practicing professional photographers; Encouraging Peer to Peer Learning, every online photography course participant is a part of a forum and has the opportunity of reviewing the work of other participants in the forum, a major part of online photography learning will happen through these forum interactions, making it wonderfully motivating for the aspirants.
A Blend of Modern and Contemporary
LLA is the only exclusive full facility photography institute in India, and probably the world! With 14 studios generously equipped with lights, light modifying accessories and grip equipment, a custom-designed automobile studio, a state of the art auditorium, the students are encouraged to explore as many specializations of photography as possible. Apart from the infrastructure, it is tactically situated in the Nilgiris, a location that took close to 3 years to finalize on. "We chose Ooty, and the Nilgiris because I feel that it is one of the best places to learn about Light. After all, photography is about understanding light and all its intricacies. Perched on a mountain, overlooking the second largest inhabited valley in the world, LLA experiences all four seasons in a day sometimes! It is truly inspiring, for anyone who is visually inclined, and the students absolutely love the location," mentions Iqbal.
Today, after 19 years of teaching Photography, LLA has gained a reputation for producing world-class photographers. Iqbal says, "At LLA, we strongly believe in the methods of Modern Gurukul. We work in small groups and maintain a very unique level of interaction with every student, helping each one of them within their learning curve. Besides, as the name suggests, we believe that in order to fully understand photography, one should understand not just light but life too. Thus, even as the students learn photography, we help them cultivate a better understanding of life. There is no rigid right or wrong at LLA, it is the process of learning and taking fruitful steps towards reaching the end goal."
With changes in technology happening at a fast pace and trends constantly evolving, Light & Life Academy keeps pace with the times by constantly tweaking the curriculum to remain relevant, without compromising on its core values. LLA has more than 500 alumni who are all over India and the world, practicing photography professionally. Iqbal adds, "All our alumni are doing well in the industry and I can safely say that they have really raised the benchmark of photography in our country. They often visit the campus and tell us about their awards and achievements. It is really a great feeling to see your students go out there and do great things! We always love to have them back on campus, to share their stories with us and the current batch of students. Singling out one or a few alumni is very difficult, but together, the alumni of LLA have certainly created a positive change with regard to photography."
What started off as a vision to help bring high-quality photography education to India, through Light & Life Academy has grown to help build a space for every photography enthusiast to learn and explore photography with LLA Online. Iqbal believes that it is imperative that the photography community, both professional and hobbyists come together to exchange thoughts, ideas and experiences and hence, have sought to build a Light & Life Community, through LLA and LLA Online, in order to bring the LLA family closer together. "We believe that each student should get the attention he/she needs in order to learn photography. We do not believe in failing any student, but working with students, till they understand each concept right before we move onto the next one!" signs off Iqbal.
Iqbal Mohamed, Founder Director
Iqbal Mohamed can be a Photographer, Educationalist and Philosopher at the same time. Iqbal Mohamed inspires students with his knowledge and vision, while keeping them in splits with his sense of humor. He completed his education from Brooks Institute of Photography. He is currently the Director of academics at Light & Life Academy for the past 18 years.
Article publised in Higher Education Review.