GET CREATIVE WITH PHOTOGRAPHY
Online Photography Course
What does it take to create a beautiful Image? Vision, knowledge of the camera and its hardware, an understanding of light and its qualities, and the role colour and design play in creating a story: the deeper your understanding of all these aspects, the greater will be your ability to create a truly beautiful image. This online photography course will give you a good grounding on the fundamental requirements of photography, that will help you take wonderful pictures, whatever your area of interest. Learn photography in Indian Languages ( Bengali, Gujarati, Hindi, Kannada, Malayalam, Marathi, Oriya, Tamil and Telugu) + English.
10,000
+ GST
FEES (Inaugural Offer)
Diary of a Photographer: Iqbal Mohamed
The hallmark of an artist is a deep engagement with his art, a continuous process of exploration and learning and a desire to share the fruits. In this video log Iqbal offers photography enthusiasts and professionals an intimate glimpse into his art, life and convictions through short videos, each encapsulating a particular idea, facet, technique or moment.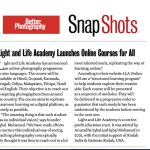 Light and Life Academy has announced an
online photography course
in nine languages. The course will be available in Hindi, Gujarati, Kannada, Bengali, Odiya, Malayalam, Telugu, Tamil and English. Their objective is to reach out to aspiring photographers from around the country. The course aims to replicate classroom learning on a digital platform, as closely as possible. "The amazing thing is that each student has an individual vision," says founder
Iqbal Mohamed
. "We have made efforts to nurture this individual way of seeing, teaching photography conceptually. We thought it was time to reach out to a lot more talented souls, replicating the way of learning, online." ...
Read More