It is 6 am, and I watch Iqbal Mohamed quietly set up his camera in front of the big glass windows in his living room and wait for the sun to rise. We are at the Light and Life Academy (LLA) in Lovedale in the Nilgiris, and I learn that he does this every morning. "No two sunrise is the same," he offers by way of explanation. Mohamed doesn't say very much. He prefers to let his photographs do the talking, laughs his more vocal wife Anuradha.
The photographer founded LLA in 2001 as a full-facility photography institute. The inspiration was his alma mater, the Brooks Institute California. He worked in Hollywood with some of the biggest names in photography, and in India, winning considerable acclaim, before setting up his school. LLA, which maintains high standards of professionalism and excellence, has added immensely to the pool of talented photographers in the country. And the alumni have now helped him realise another dream — to set up an online course called 'Get Creative with Photography'.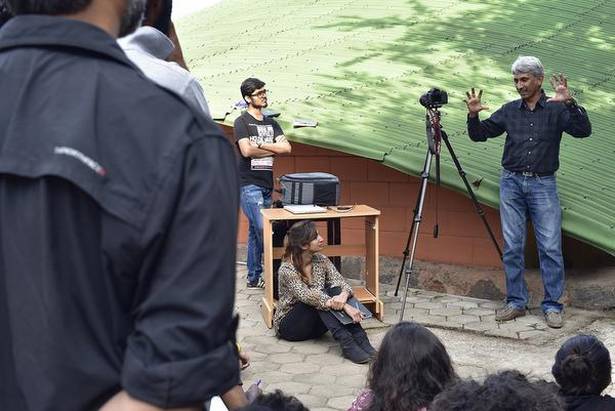 Seamless lessons
They want to reach out to more people who take pictures as a serious hobby, says Anuradha. "But we did not want it to become just another random photography course. Mohamed's book, Portrait & Function Photography, in eight Indian languages, was enthusiastically received, and that made us think of an online programme that was serious, structured and professional," she adds. LLA online was born after three long years of hard work. The programme is available in English and nine Indian languages (Tamil, Telugu, Malayalam, Kannada, Hindi, Marathi, Gujarati, Oriya and Bengali). "Prahlad Kakar advised us on how to create the video tutorials, all shot in campus, and make them not just informative, but also entertaining," she says.
I click on the online programme to see how it looks, and the screen fills up with a haunting photograph of trees. Even to my unprofessional eye it is a stunning image. It is one of Mohamed's photographs.
Nattily dressed LLA alumni present the lessons. Each one is an acclaimed photographer, says Anuradha, with considerable pride. "Without them, this course would not have been possible." These include Shaheen Thaha (celebrity, fashion and architecture), Mihir Hardikar (food and beverages), Ajit SN (automobile and underwater), Punya Arora (editorial and underwater fashion), Satish Kumar (automobile) and Ankit Gupta (architecture and travel).
Getting into the details
The online tutorial begins with clear, concise and simply-worded instructions. Then comes the fun part. I ask Anuradha if can see/hear the lesson in Bengali. I follow it up with a class in Tamil, Hindi and Kannada! The dubbing is perfect and as someone who has only taken pictures on her mobile phone, even I can understand everything. 'Getting Ready & Exposure' is the first lesson, followed by 'Shutter', and two sessions each on 'Lenses and Apertures', four sessions on 'Light', a lesson on 'Colour', and finally one on 'Composition'.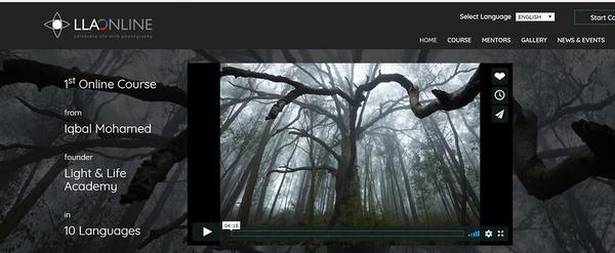 Each of the modules explains the concepts and is supported by images. At the end of each class, an assignment is given that the students have to complete and upload in a week. Their homework is critiqued by mentors and peers, and only then can they proceed to the next class. If required, they are allowed to re-shoot. "This way they share ideas and learn from each others' mistakes," explains Anuradha, who emphasises that a strict protocol and system is followed and those signing up for the course have to be committed. There is no skipping lessons.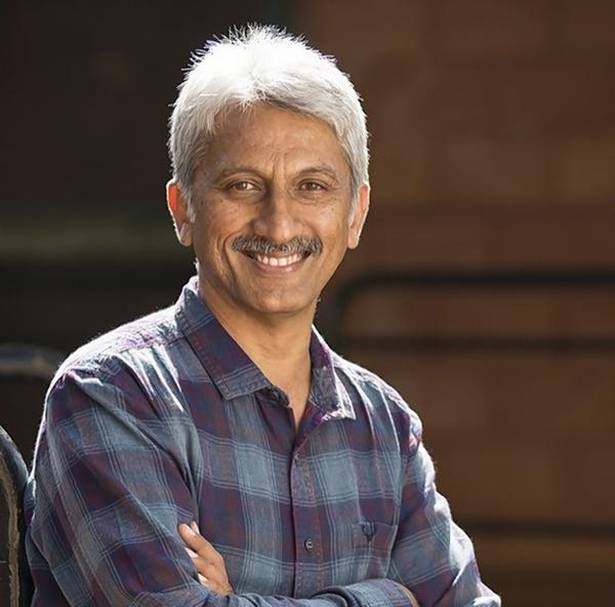 Offline vs online
Online students have access to more than 500 stunning photographs by over 90 LLA alumni to give them an idea of what they can do with their cameras. Mohamed oversees their work and comments when necessary. The first set of students have already completed two assignments and the results have been promising, says Anuradha. Once they get feedback, they will launch other programmes, she adds.
Prahalad Muralidharan, CEO of LLA Online, explains that it was challenging to replicate the successful methods of their full-time courses on to the online platform. "After brainstorming and countless revisions, we finally found a way to do it. With peer-group interaction, an online forum and professional feedback, LLA Online is as close as it gets to LLA in terms of learning on an online platform!" he says.
The course includes 10 sessions over 10 weeks. The fee is ₹10,000. The full time courses at LLA can go up to ₹6,65,000. Details: llaonline.in or call: 97511-51999