I've always been fascinated by the utility of creative filters. They have the potential to elevate an image and introduce to the viewer, something beyond the ordinary.
Instagram was one of the first to introduce this idea on a digital platform through a series of filters for our own images. Depending on the mood we wanted to communicate, irrespective of the actual photograph, we had in our hands the ability to go from dark and moody to warm and happy with a single tap for our images. In fact, filters have significantly grown not only in terms of their popularity but also to work with the photograph and produce something quite realistic but, at the same time, starkly different from any ordinary photograph.
But I digress. The purpose of this particular blog is not to enlighten you on the effective use of digital filters. I'm sure you already have a handle on that. What I seek to experiment with, and hopefully you will too, is getting creative with physical filters. And no, I'm not talking about ND or UV filters but rather, everyday objects we find in our own homes!
From curtains to frosted windows, even colored water bottles, among others, the number of possible filters are plenty. Ultimately, what may hang from the top of our windows, for instance, does not just regulate the amount of light coming in but also presents itself as an opportunity to Get Creative with Photography!
Here are a few photographs of different subjects being shot through filters sourced from in and around the house!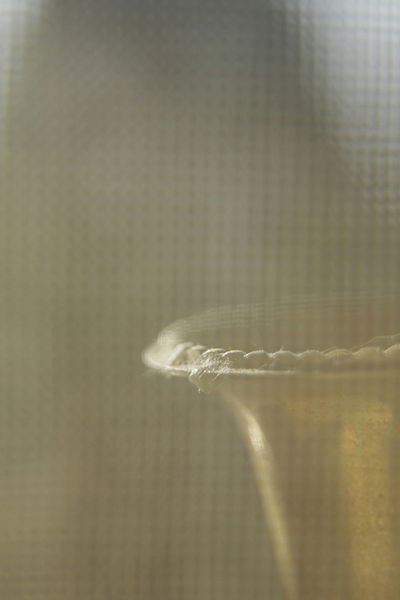 The photograph above, was shot at around 7 in the morning with sunlight streaming in from the left. I was trying to take a shot of this candle stand by the window when I realized the warm tone of the curtain mesh was similar to the warm tone of the candle stand. Naturally, the two came together and seemed to complement each other in terms of the mood I was going for.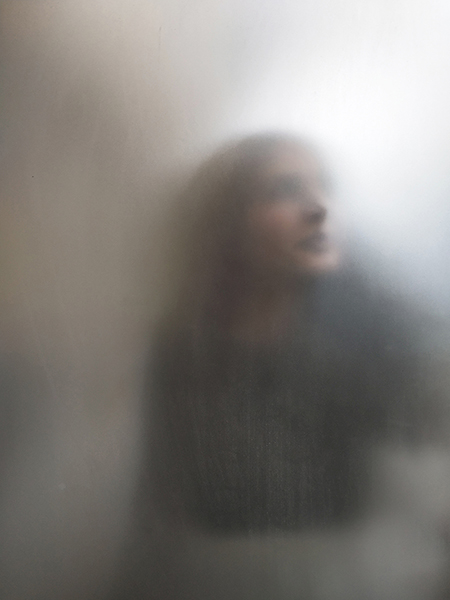 I'd come across this fascinating frosted window pane one morning and immediately got a friend of mine to stand behind it. The apparent focus "fall off", caused by the frosted window, added a really interesting effect to what otherwise might have been an ordinary photograph.
Backlight from a bright morning sky also contributed to creating a glow in the window and added an amount of contrast to the entire frame.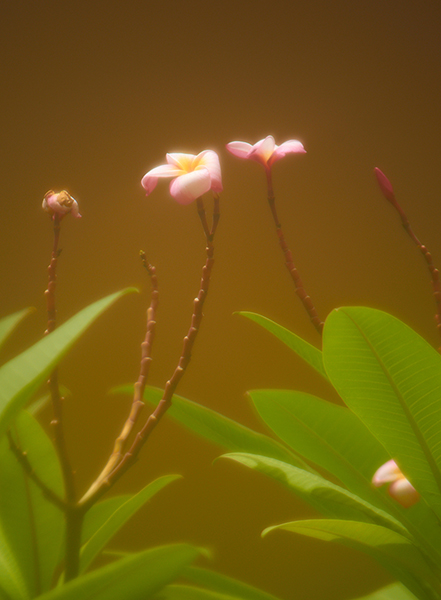 "I was looking through my dad's old photo albums from the 80s and I noticed that each picture had a warm tone filter like material on top of it. So I took a couple of them out. I was curious to see what kind of effect this would give. I immediately tried some shots of some flowers right outside my balcony. With a little bit of trial and error by holding the DIY filter in different positions, I managed to get some interesting results. The murkiness of the material along with the folds together made it look like the plants were underwater. "
There are a couple of things to take note of when you're looking to photograph using filters.
The objective here is not to simply shoot through something. Whatever we may choose to use as a filter in our house, has to add value to the photograph.
Experiment with different angles and compositions. Learn to balance the effect of the filter and the subject so that one does not get lost in the other.
Working with filters at home is a great way to help you understand how different materials react to light. This will help you make the best out of the potential subjects around you and, more importantly, helps you get creatively different with your pictures!
So what filters at home can you use to elevate a photograph? Tag @llaonline and show us!